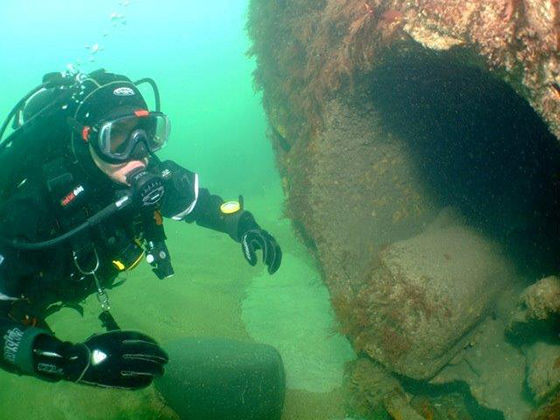 A popular secluded spot for rockpoolers and dogwalkers, Brown's Bay has a very small sandy beach.
There are also three shipwrecks, often visited by divers. The most famous of which is the wreck of the Zephyros. On 26th February 1947 the Greek steamship Zephyros ran aground at Brown's Point, between Cullercoats Bay and Brown's Bay, close to Cullercoats Radio Station. There were no fatalities. Parts of the wreck can still be seen at low tide and are often visited by divers alongside the other two wrecks in the bay, of the Butetown and the Astley. Tynemouth Volunteer Life Brigade seized the opportunity to use the wreck of the Zephyros for realistic training exercises.
Winifred Lisle (Roberts) remembers:
One stormy night a Greek ship came on the rocks and they started offloading the cargo to lighten the ship. We all went down and got sweets which were the cargo – they didn't manage to save it, though. I think it is still in the lagoon at the pebble beach.
The large photo shows a diver at the wreck of the SS Butetown, which was wrecked on the 14th December 1917 whilst carrying a cargo of coal. She was built and launched in 1890, was 1,594 tons and had a length of 249 metres. She lies behind a kelp covered reef, north of the mouth of the bay, at a depth of about 9 metres.
Click the thumbnail below to see the Brown's Bay gallery.