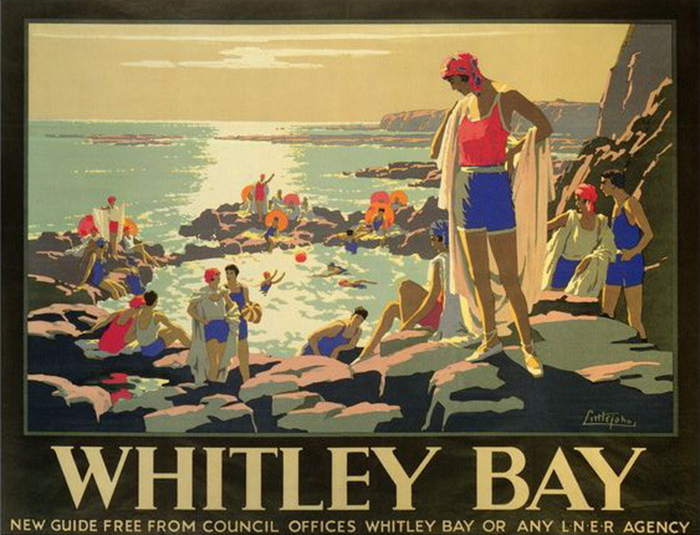 With the rise of Whitley Bay and Cullercoats as seaside resorts, the popularity of sea-swimming grew. There were however, a number of fatalities and the need for a safe swimming pool was clear. Table Rocks was a natural (20 x 11 feet) tidal pool. On 27th July 1894 W. Scott applied to the Council for permission to make a swimming pool at Table Rock and the Whitley Seaside Chronicle noted that it was to be ready in 12 months. Charles Henry Megson Robson, a solicitor, of Edwards Road, later claimed to have been behind the scheme. He had paid £200 of his own money and raised £28 by public subscription. The Council was asked to extend the pool in 1896, but refused on the grounds of cost. In 1909 however, the Council did decide to include the project in the Rockcliffe promenade improvements and the pool was extended to 70 feet (its current size), by blasting. In 1912, a hut was built to provide changing facilities, but was lost four years later in gales. Steps were cut down to the pool and a rope 'rail' was fastened to the sides with metal rings that can still be seen today.
Formed in 1910, The Whitley and Monkseaton Bathing Club made good use of the pool. They had a winkle motif adorning their official red and black swimming costumes. It is believed that later in the club's history each member was given a gold-plated winkle shell and that the custom of local ladies and gentlemen showing each other their winkles came from this.
The school also formed a bathing club for boys in 1913.
At its peak the pool had separate changing facilities installed for the ladies and gents which are believed to have existed until the 1950s. The building of Tynemouth Lido was largely responsible for its demise although it was still in use until 1971. The pool is still visible today at low tide although it is no longer in use.
Click the thumbnail below to see the Table Rocks gallery.