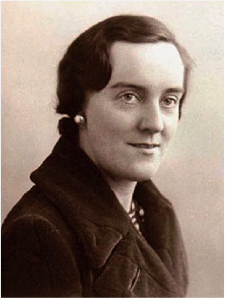 Dorothy Brant died on February 1, 2009, aged 102. She was the last surviving pioneer of the movement to bring women into the Conservative Party's constituency organisations after the Suffragettes had won them the right to vote.
Dorothy Brant was born into a middle-class family in Gateshead, County Durham (as it then was), the daughter of a salesman for vulcanite roofing. The family subsequently prospered in middle-class Tynemouth, sending their only daughter to Gordon College at Whitley Bay, where she developed a deep love of English literature and a marked taste for public speaking. In 1928, the year that the right to vote was extended to all women over the age of 21, she took up her first Conservative party post, in its Newcastle office.
A pioneer Conservative party organiser, Dorothy Brant paved the way for many other women to enter politics, including Margaret Thatcher. Brant was deputy head of the party's north-west organisation (1947-54) and concluded her professional career running the Conservative Women's National Advisory Committee (1960-67). During the Second World War she directed the work of the Women's Land Army, from Lincolnshire to the Scottish border.